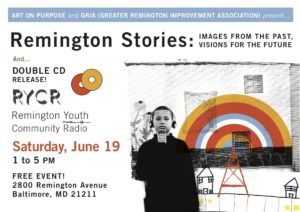 On June 19, the Art on Purpose Project will be having a CD release of their Remington Youth Community Radio project (RYCR) double CD! Come join us at 2800 Remington Avenue, Baltimore MD from 1-5pm
This exhibition features artwork and audio from Art on Purpose's Remington Youth Community Radio project (RYCR), as well as historical photographs and archival imagery of the Remington community.  At this event, Art on Purpose will release the CD, and audio-visual map, RYCR: Portrait of A Neighborhood. This double disc ready for radio compilation includes interviews, stories, and recorded reflections collected by the RYCR youth participants about Remington; it's residents, it's businesses, and neighborhood character.
This is a free event, includes free food, and performances by local musicians. Also there will be walking audio neighborhood tours happening throughout the event.
Check out the pdf of the flyer here.
If you use Google calendar, add our GRIA events by clicking here and clicking the little button in the bottom right. This event as well as many others are posted there.
This event is also mentioned in a popular Baltimore blog here.