Neighbors,
Out of an abundance of caution GRIA is cancelling the March 2020 community meeting, and will re-assess as things move forward.
Please do everything you can to stay safe and keep the Greater Remington and Baltimore Areas safe.
Community Members have started a resource pool to help our older residents. At this time, this is not at GRIA managed program, but many of our members are helping out through this community led effort.
If you are a resident whom would like to help please fill out this form:
COVID 19 Volunteer Signup in Remington
If you are a vulnerable resident whom needs help from this community lead group, please fill out this form:
Vulnerable Individuals in Remington & COVID-19
Please contact info@griaonline.org with any questions or concerns over these trying times. We will try to update our website as much as possible.
Online Resources for Corona Virus:
Affected City Services (Updated 3/14/20):
All Pratt Library locations are closed to the public during the COVID-19 outbreak. Digital services are up and running. Check out the Pratt website at https://www.prattlibrary.org/
All Senior Centers are closed.
The Port of Baltimore is closed.
Schools are closed until March 27th.
All restaurants and bars are closed for dine-in services, many restaurants should still be available for takeout and delivery.
The CDC recommends against gatherings of 50 or more people.
All casinos and gambling establishments are closed.
All evictions are suspended for 2 weeks.
All visits to prisons are suspended.
BGE is suspending ALL service disconnection and waiving late payments until MAY 1st!
No late fees will be assessed on WATER BILLS for the time being. No one's water will be shut off for lack of payment (policy as of 2018).
The Baltimore State's Attorney's Office is closed for the next 3 weeks
All MDOT MVA services must be made by appointment only. You can schedule an appointment online at https://mvascheduling.mva.maryland.gov/
All civil, criminal and Grand jury trials are canceled until April 6, 2020, and all trial will be rescheduled to a later date. Jury trials that are currently in progress will continue until their conclusion.
Affected City Services (Updated 3/16/20):
Affected City Services (Updated 3/18/20):
Governor Hogan MOVED the April 28th Primary to June 2nd. More details to come on early voting and if there are any changes to poll locations.
The Special Election for Maryland's 7th District is will remain on April 28th. It is a mail-in only election. More details to come on whether voters will need to request ballots, or if voters will automatically be sent to them.
Maryland will create drive-through COVID-19 testing centers once labs have the capacity to process the samples. These will be at Vehicle Emissions Testing Centers.
Vehicle inspections are being suspended, and the Health Department and Department of Transportation will "re-purpose" MVA inspection stations for use as "drive-through coronavirus testing centers" when they can test samples adequately;
MARC rail and commuter bus and subway systems are reducing service – LOCAL BUSES ARE STILL OPERATING REGULARLY
The state is moving to 100% cashless tolling "to reduce person-to-person interactions";
Discussions are underway with the Maryland Jockey Club to postpone the Preakness Stakes, the second leg of horse racing's Triple Crown, to September.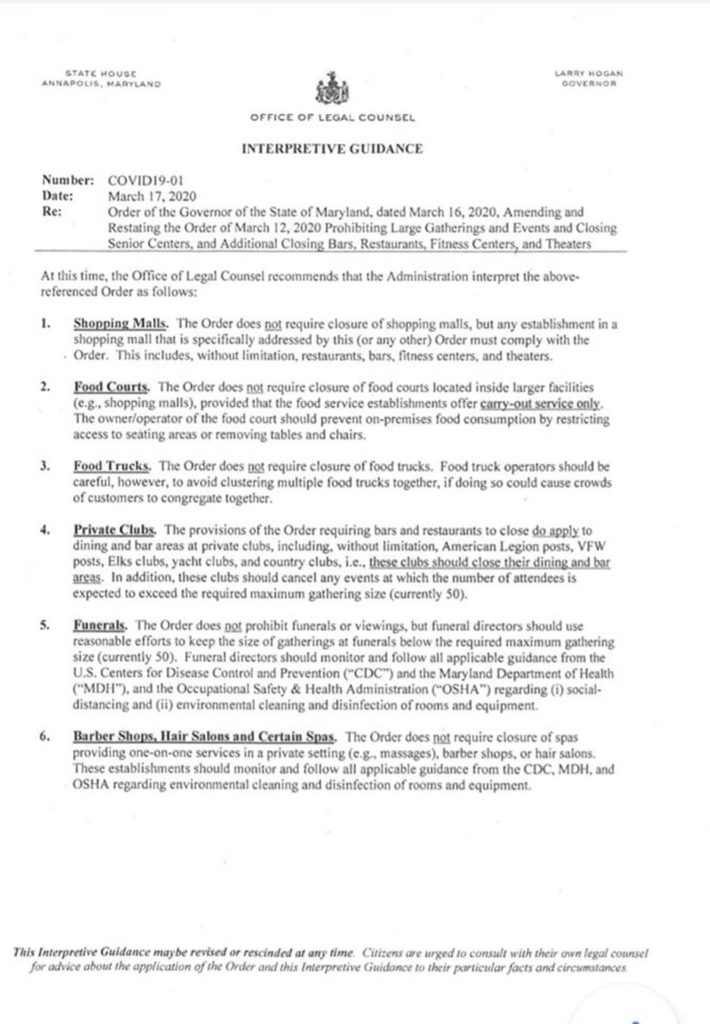 Affected City Services (Updated 3/23/20):
Governor Hogan issued new guidance this morning on efforts to slow the spread of COVID-19. All non-essential businesses are to close as of 5pm today. THIS IS NOT A SHELTER IN PLACE ORDER.
Please consult https://www.cisa.gov/identifying-critical-infrastructure-during-covid-19 for additional guidance about what is and is not included in the federal critical infrastructure sectors.
Emergency Text Messages
An emergency notification system (provided by OnSolve through the CodeRED platform) used by the City of Baltimore to send emergency alerts to residents, businesses and visitors across the City: https://emergency.baltimorecity.gov/bmore-alert
Elder Checkin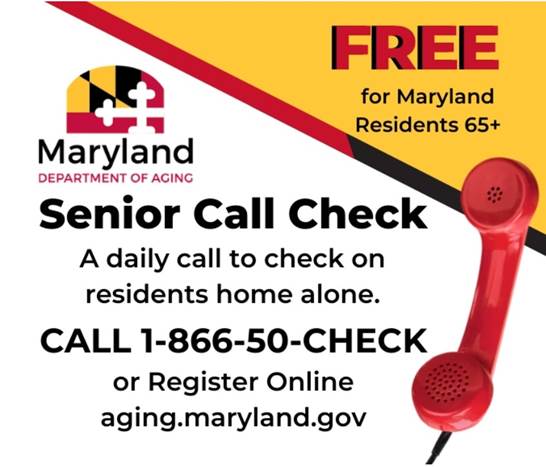 Medical Advice
The Baltimore City Health Department maintains a list of clinics in Baltimore City that accept patients without insurance. This list can be found at https://health.baltimorecity.gov/health-clinics-services/primary-care-clinics-uninsured?fbclid=IwAR3b1QmqLG7C0zm44ubtSrg2EkKjsGX_h-Kf8z29uEh0Raky-eGlXMqdoFs, residents can call 2-1-1 to find this list of clinics.
If your doctor thought you likely had COVID-19 but was not able to test for it, stay isolated in your home.